blog, Featured, Insights, Results
Sydney luxury property market end of financial year review
The 2018/2019 year to date has seen the Australian residential real estate market adjust. According to CoreLogic data, Sydney prices are 15% from their top, marking the largest adjustment in 40 years.
A number of dynamic circumstances have created this in the market.
The Royal Commission findings temporarily led to banks restricting lending more rigidly. The Commission was designed to stop banks making it harder on the customer, yet the end result shows the opposite.
The State and Federal Election, caused some uncertainty. A key threat being the Labour Government's proposals to restrict negative gearing and half the capital gains tax discount meant investors held off on any purchasing decisions until after the Federal election.
A third factor influencing expectations has been mainstream media, which has been filled with sensational news stories about the decline of the property market. This is, to some degree, self-fulfilling.  A surge in the supply of units increased rental vacancy rates and this has affected investor sentiment and finally there has been a substantial reduction in foreign demand.
All these factors have pressured prices.
As Sydney has two distinct property markets, mainstream and the prestige top 3% market, they need to be looked at separately to see whether the factors that affected the mainstream Sydney residential market also affected Sydney's prestige real estate market.
The prestige market is largely discretionary and if pricing is perceived to be not at optimum to sell then it causes stock to reduce. This, in itself helps maintain prices. In general, with prestige sales, if the vendor does not get the price he's looking for, the property remains unsold. Whilst business sentiment may not be as strong as it could be, optimism is spreading due to the federal election result and access to cheap money is there.
The first half of 2018 saw very few elite sales, and a flood of them in the back half, 2019 has followed a similar trend and I expect a similar back half.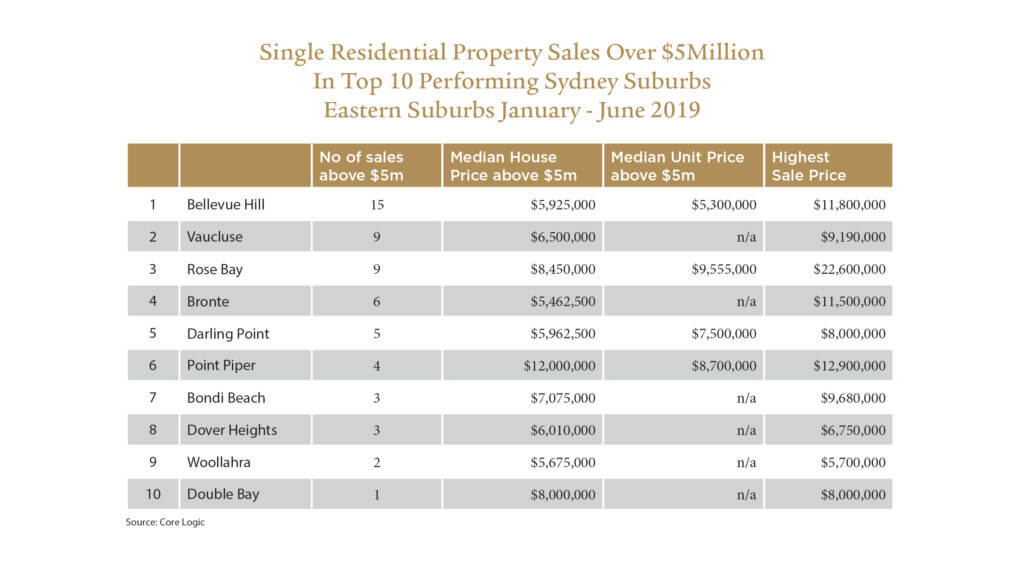 After the uncertainty of the first half of this year, it will be interesting to see what the rest of the year brings.  The main drivers which will support growth for the second half of 2019 include:
Cuts to interest rates to historic lows
Banks softening lending restrictions
The Federal Election now over, its positive result and tax cuts, so buyer sentiment will increase
The Australian dollar is lower against the US dollar and other major currencies which should increase
overseas investment interest
Asia's strong economic performance means 2019 will be the year the number of US $ millionaires globally exceeds
20 million for the first time (Knight Frank 2019 Wealth Report)
In terms of Pillinger's prestige sales, the financial year 18/19 was very positive with the highlights being:
Wunulla Road, Point Piper (price and purchaser undisclosed) but a sale in the top 3 by price in any year,
8 & 9 Hillside Avenue, Rose Bay for a combined price of $32m which was our second highest price in Rose Bay for the year
Wolseley Road, Point Piper (land only) for in excess of $22m
Undisclosed location in Point Piper for $20m
48 Wunulla Road, Point Piper for $19.25m
The middle and lower price points for Pillinger are still healthy with great results at 3 Oceanview Avenue, Vaucluse;
1/10 Blaxland Road, Bellevue Hill; 3/6 Fitzwilliam Road, Vaucluse; 39 Queen Street, Woollahra; 9/10 Wylde Street, Potts Point; 67A Liverpool Street, Dover Heights; 10 Crown Street, Woolloomooloo; 163 O'Sullivan Road, Bellevue Hill; 11 Scott Street, Bronte; 1903/180 Eastpoint Tower, Edgecliff, and 148 Old South Head Road, Vaucluse.
Brad Pillinger