blog, Featured, Insights, Results
Sydney Luxury Property Market Report – May 2021
What an amazing and interesting year it has been so far in the residential property market.
This year, for Pillinger, it has been unprecedented in terms of prices achieved. We encourage people to buy with a long term view. In a lifetime of owning property, it's value will increase four fold, if not more.
Known sales by our agency since February this year are 3 in excess of $20m, one of which has been noted as the highest recorded sale this year being circa $40m, reality is we have made well over double that number of sales in this range over that time period.
The 16 sales made by Pillinger this year from February to April are spread across the Sydney basin from Northbridge to Leura, and range from $1.325m to some of the most elite price points ever achieved.
When working at the elite end of the market where privacy is valued far more than results being known instantly, the twin goals of maintaining confidentiality and setting new bench marks has never been so wonderfully achieved.
Since February 1 2021 we have been blessed with over $300 million plus in sales at an average sales price of just over $20m. These results can't be anything but wonderful, but this type of cycle and relatively same percentage jumps will happen another couple of times before the halfway point of this century.
This year has been a perfect storm of factors pushing prices dramatically up … long term low interest rates, Sydney Australia is the place to be to live safely and without restriction, available stock is minimal due to low mortgage stress, job confidence is increasing.
Just as surely as prices will push again a few more times this half century, the pauses will come as well. Now is an unequalled tine for selling, but within this year there will be a period where cash buyers will be ideally placed.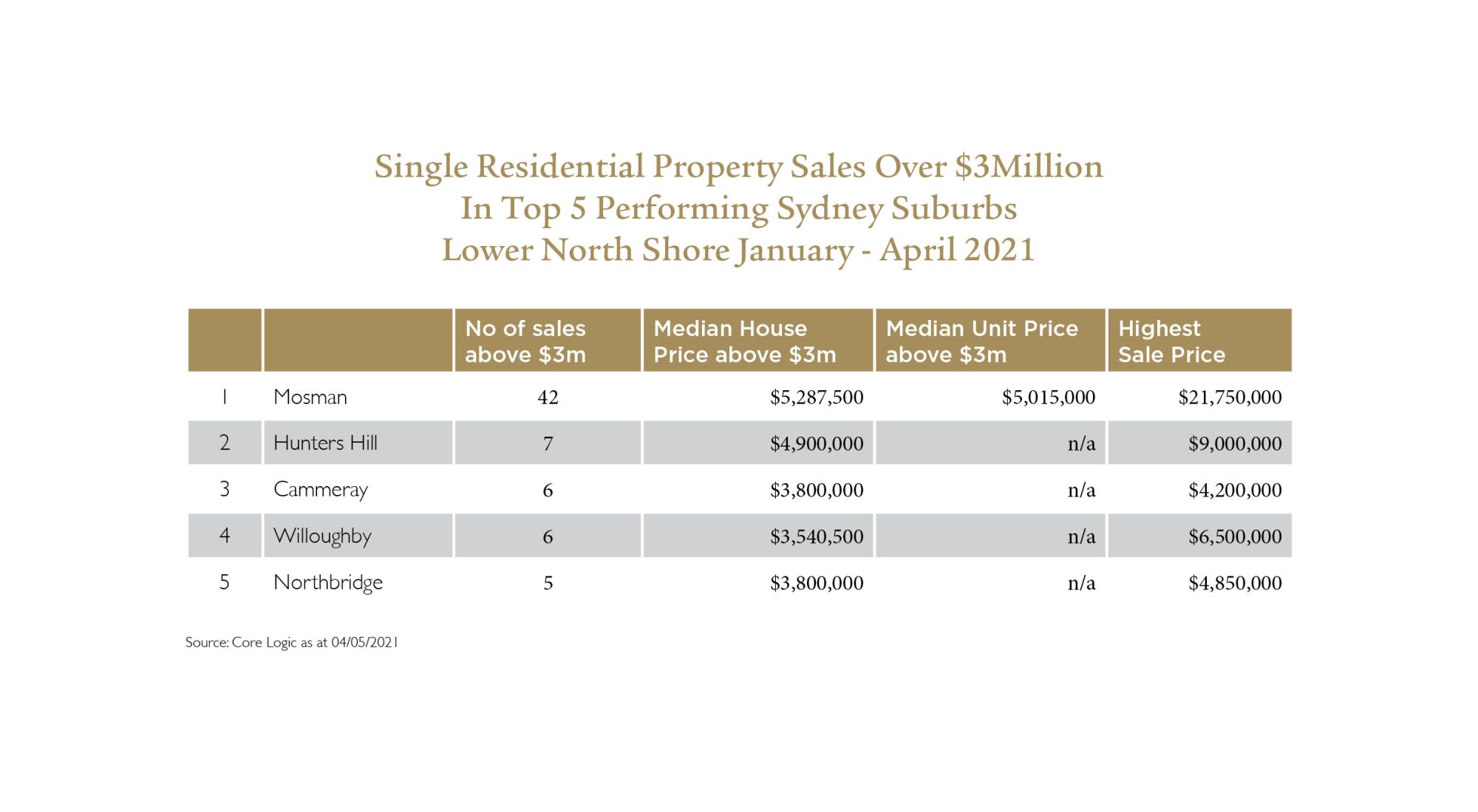 For now, the heat in the housing market has intensified. Our national home value index recorded a 2.8% rise in April 2021. That's the fastest rate of appreciation since October 1988*1. With a surge in sales volumes and an overall increase in property values, Australia's property market definitely is experiencing exceptional growth.
According to CoreLogic, Sydney recorded a 3.7% increase in sales values in April and 6.7% higher over the first quarter of the year, leading the pack for capital gains. It has now fully recovered from previous downturns. *1
This upwards pressure on home values stems from the fact that demand is simply overwhelming supply. Advertised property listings in March was 25% below the five year average*1. This shortage of property is leading to increased competition and a heightened sense of urgency among buyers. Sales volumes are expected to increase as sellers make the most of booming conditions.
Fierce buyer competition has meant that Sydney's auction clearance rate has held above 80% for the last 6 weeks and this trend is likely to continue for some time yet. *1
For the luxury property market, defined by the top 5% of the market by value, the first quarter of the year has been an exciting time. Australia has experienced an increase in our ultra-high-net-worth population (UHNW) due to the strong property market, Australia's ability to control coronavirus and the Australian Dollar's strong performance against the US Dollar*2
The buying public's concern is that it will never grow like this again, but it always does. Investment in property has, for the fifth time since I left school, proven to be the most secure, appreciating asset available.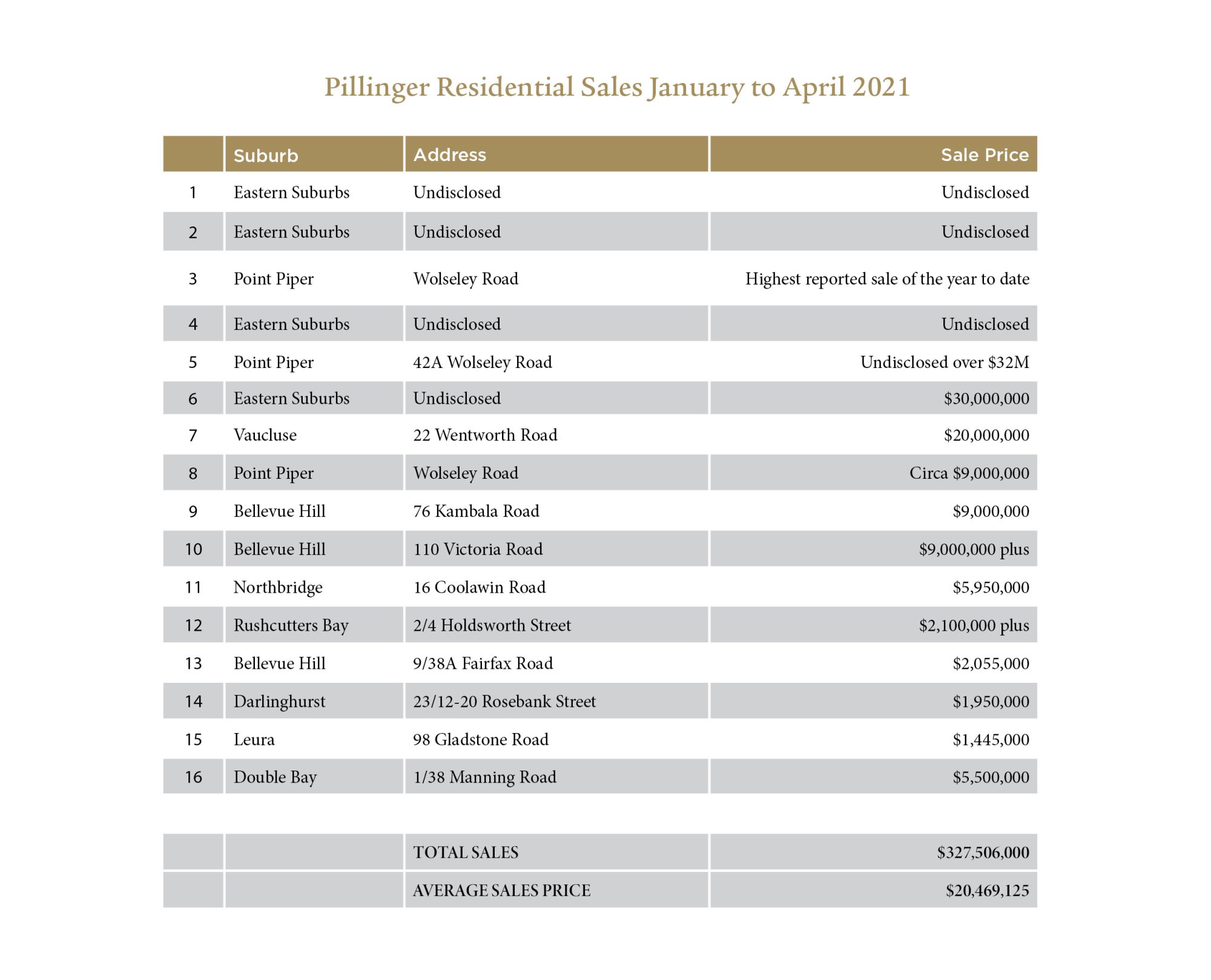 Pillinger have featured for 26 consecutive years in the Top 10 priced residential sales annually in the country.
Pillinger has achieved the top, second and fourth placed sales by price Australia wide year to date.
We have had a 100% auction success rate for 2020 & 2021.
So far this year we have had transactions ranging from $1.325m to over $65m
We look forward to seeing how the rest of the year plays out and working an unprecedented number of transactions at new and exciting levels.
Brad Pillinger
Source:
1. Corelogic Market Update April 2021
2. Knight Frank Wealth Report 2021